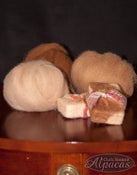 Our Alpaca Roving Blends - 1 ounce
$

6.50
You will fall in love with these beautiful alpaca roving blends.
Great for hand-spinners!
The first one is courtesy of our Reserve Champ, Montezuma (Zuma for short) and has been blended with rose colored merino to highlight Zuma's natural reddish brown tones.
72% Our Alpaca; 28% Dyed Merino.
The second one is courtesy of our pretty girl, Marlana. We called it "Marlana's Lavender Field". Unfortunately, it is sold out.
Sold by the ounce.
We've included Zuma's photo on the label - really sweet alpaca!